In an earlier post (Glamping Meal Planning), I had talked about how much I love cooking, but sometimes wish I was outside with everyone else. This trip was a perfect opportunity to try my hand at cooking on the campfire. It was not yet wildfire season, so we were still allowed a campfire, and our campground was without water and electric hookups, so I really needed to plan ahead. I managed to cook two delicious breakfasts and two dinners entirely over the fire! This was my first attempt at using a pie iron and I hadn't cooked foil pack dinners over the fire since we used to go camping in high school. I was able to enjoy cocktails and visiting with our friends while dinner was cooking!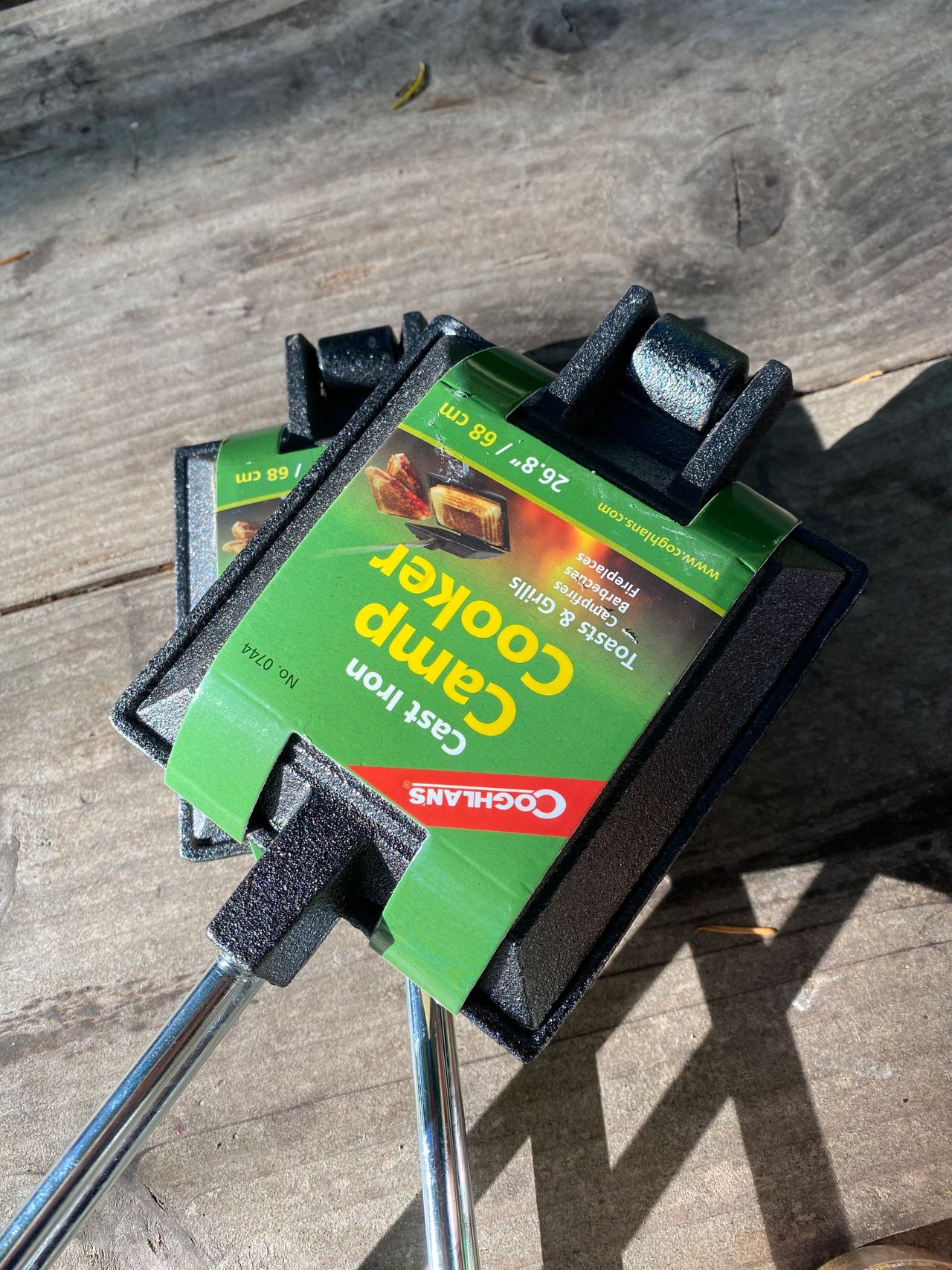 This site contains affiliate links. Read full disclosure here.
PIE IRON BREAKFAST SANDWICHES
We had purchased two small pie irons online, without really understanding just how small. They were perfect size for breakfast sandwiches and smores, so maybe some other dessert recipes would work out well too. They were too small for a full-size dinner serving of something, so we have decided to order a couple larger ones to try out.
When I don't get around to cooking bacon at home before a trip, we bring turkey bacon. Don't get me wrong, we love decadent pork bacon as much as the next person, but I don't like the greasy cleanup while we're camping. Believe it or not, turkey bacon is very tasty.
For our breakfast sandwiches, I wove 1/3 slices of turkey bacon together for each outside layer. After spraying the insides of the cooker with non-stick pan spray, I layered in one side of the pie iron: bacon weave, thawed hash brown potatoes, an egg, a sprinkle of shredded cheddar, more hash browns and lastly, another bacon weave. I then secured the top of the pie iron and placed it over the fire.
At Carter Lake Campground, each campsite has a fire pit with a cooking grate that swings over the top so we were able to set the pie irons on the grate and keep our hands free for Bloody Marys! If I remember correctly, we cooked each side over the fire for 20 minutes, in ten-minute increments.If we were really roughing it, and had to actually set the drinks down to hold the pie irons, it really would be fine (except needing to put the drinks down!), the handles are long enough and stayed cool. I heated a gluten-free bagel and toasted Norman's bread over the fire and breakfast was served.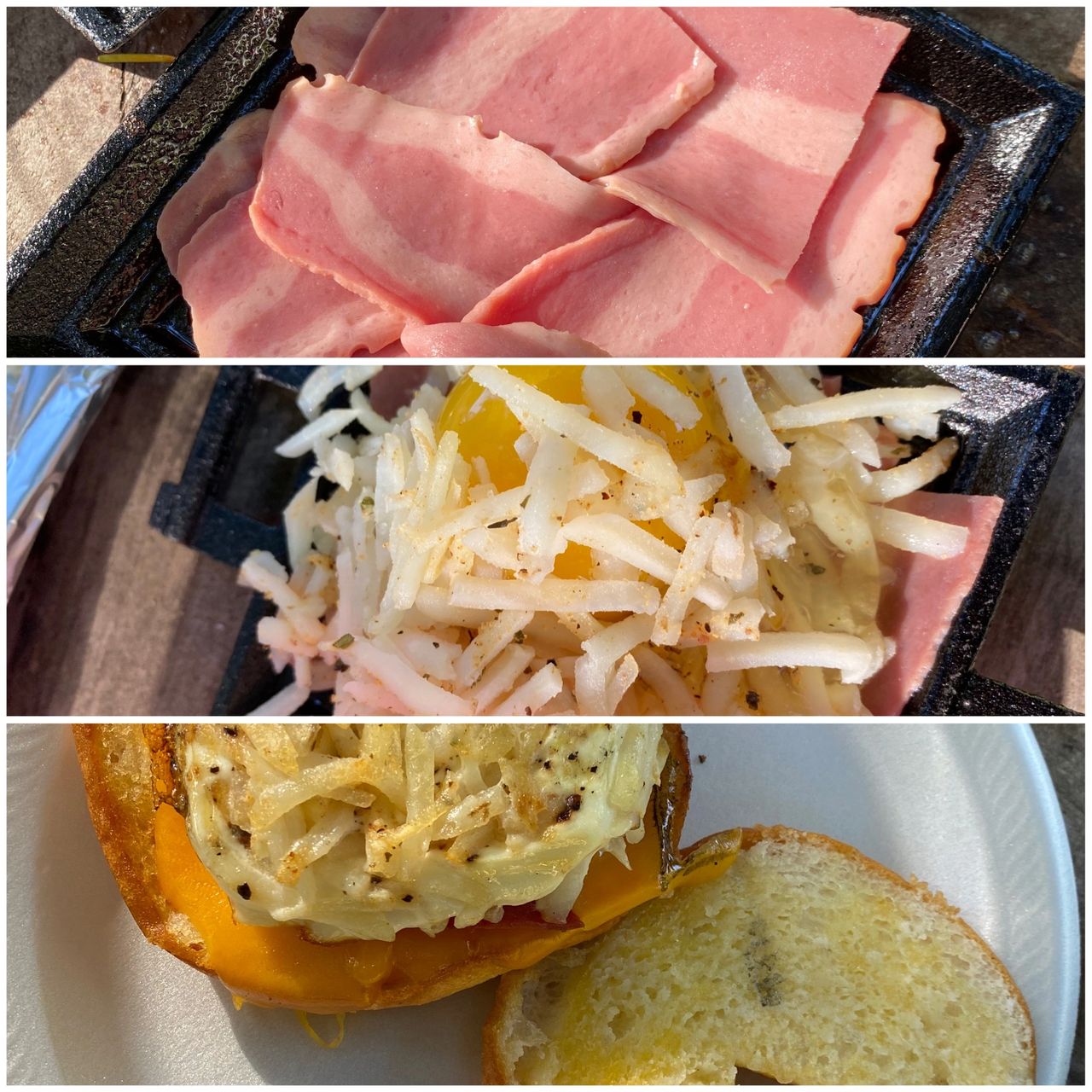 DINNER TIME, WINNER TIME!
For one of our dinners, I made balsamic glazed pork loin, roasted tiny potatoes and garlicky green beans and carrots. Each dish was wrapped in its own foil so it could cook on its own timeline. I put the potatoes on first for about 10 minutes. Since potatoes take longer to cook, I had purchased the smallest potatoes I could find, from the Little Potato Company. They're so tiny and cute- even the name is cute! When it was time to turn the potatoes, I put the foil-wrapped pork loin on the grill, then, the vegetables. I left the vegetables frozen so they wouldn't cook too fast. After another 10 minutes, we turned the potatoes again and turned the meat and vegetables.We did this a couple times-I lost track because I was so busy enjoying friends and cocktails at the campfire instead of cooking inside while everyone else had fun! Anyway, it turned it great and our Brown Sugar Bourbon Beef Tips with Tiny Potatoes and Carrots the next night was also easy and delicious!
All things considered, the tiny pie irons were best used for 'smores by layering graham cracker, chocolate, marshmallow and graham cracker, and heating over the fire for maybe 10 minutes all together. Or better yet, I used smashed gluten-free brownies in place of the graham cracker for an even more decadent dessert! In addition to the larger pie-irons, I may also order some grilling baskets to put the foil pack meals in – just in case our camp ground doesn't have a grate over the fire pit. Remember, just because you are camping, doesn't mean your meals have to be limited to hot dogs and hamburgers, and you shouldn't be trapped inside cooking (unless you need an excuse to sneak in an episode of your favorite true crime show) while everyone else is enjoying the outdoors. Most importantly – Happy Glamping!
Do you have any favorite Pie Iron or Foil Pack meals you prepare when glamping? Let us know in the comments!